Over the last couple of months Typeface has been working with Face Equality International, an alliance of Non-Governmental Organisations (NGOs), charities and support groups which are working at national, regional or international levels to promote the campaign for 'face equality'.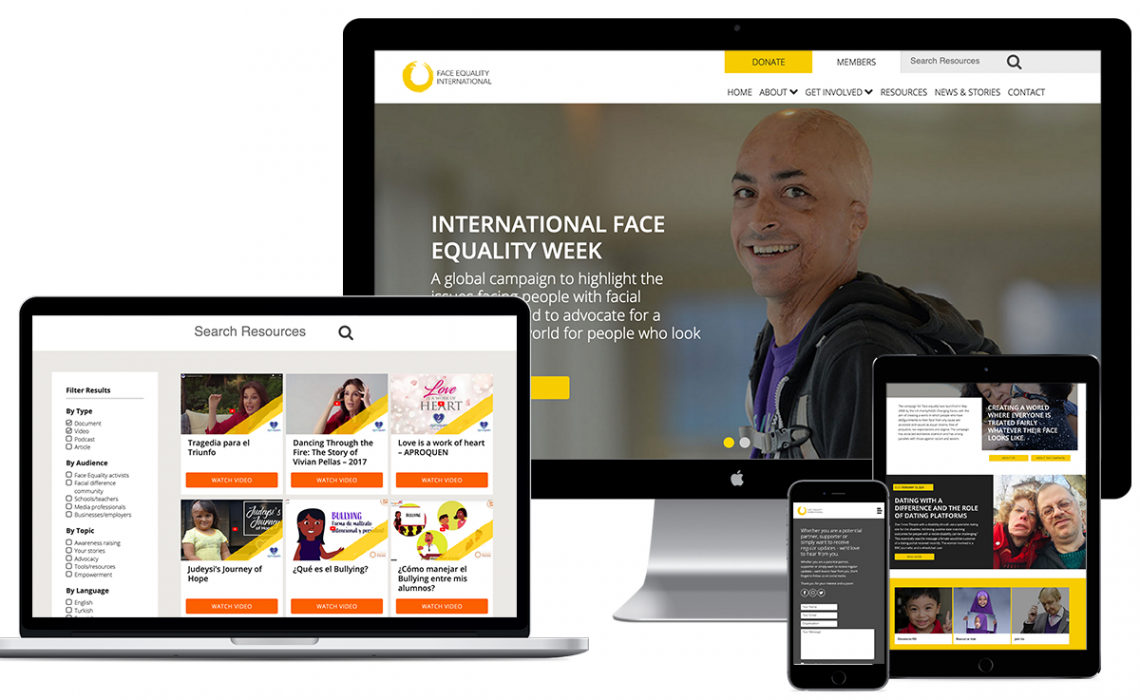 International Face Equality Week
The new FEI website has been launched to coincide with International Face Equality Week. The event runs from the 17th until the 24th of May, where the facial difference community will come together to run a series of activities focused on bringing greater awareness and understanding to the cause.
The main goal of the FEI website is to bring together Information, educational materials and knowledge from FEI's extensive network of partners and NGOs. The new website takes articles, downloads and video from across the Alliance and presents them in one, easy to use Resource Hub. Admins can upload and link to external resources, which are automatically categorised on the Resource Hub. To allow users to filter through relevant resources, a simple checkbox system was created; which allows admins to categorise resources by type, audience, topic and language.

The Face Equality International website also features a member area which works in a similar way to the Resource Hub, allowing the FEI Alliance to share resources between its members.

The FEI website is designed to be clean, easy to understand and enjoyable to use. It showcases the people behind the campaign for Face Equality and brings together stories, information and tools from across the charities extensive network of campaigners, advocates and supporters.

FEI Week Instagram Filter
Show your support on social.
As well as a shiny new website, Typeface produced a 3D Instagram Filter so people can show their support and share their stories on social media.
Get involved in IFEW 2021
IFEW 2021 kicks off with a series of informal discussions on Facebook Live. Each session will be hosted on FEI's Facebook page, apart from Monday 24th, which will be on Instagram.
Tuesday 18th May: "Representation beyond the external" 14:00 BST/UTC +1, 9:00 EDT/UTC -4, 15:00 CEST/UTC +2
Wednesday 19th May: "Representation in books" 18:00 BST/UTC +1, 13:00 EDT/UTC -4, 19:00 CEST/UTC +2
Thursday 20th May: "Sharing your story to bring about change" 18:30 BST/UTC +1, 13:30 EDT/UTC -4, 19:30 CEST/UTC +2
Saturday 22nd May: "Reflections on the May campaign from Moebius Syndrome Foundation" 17:00 BST/UTC +1, 12:00 EDT/UTC -4, 18:00 CEST/UTC +2
Sunday 23rd May: "Face Equality in School" 12:00 BST/UTC +1, 7:00 EDT/UTC -4, 13:00 CEST/UTC +2
Monday 24th May: "IG Live Open Mic – Come and talk to us about Face Equality" 18:00 BST/UTC +1, 13:00 EDT/UTC -4, 19:00 CEST/UTC +2